Making Cannabis Infused Granola Bars at Home with Bask Distillate
Using cannabis distillate to make edibles at home is a cost-effective and easy way to dose your favorite foods. This method is especially beneficial for people with food allergies or dietary restrictions. The following cannabis infused granola bar recipe was created by Bask Patient Care Advocate, Christine, who loves to bake in her spare time. After becoming a patient, Christine began exploring ways to infuse her favorite recipes with cannabis and found that distillate is the easiest way to accurately dose edibles while also avoiding the cannabis flavor often associated with butters and cooking oils made from cannabis flowers and trim. We love how simple it is to make this recipe! It's also incredibly easy to add or substitute your favorite ingredients like swapping the maple syrup with honey or agave and adding different nuts, seeds, and dried fruits.
What is Distillate?
Distillate is one of the purest forms of cannabis concentrate produced by distillation. At Bask, we use C02 extraction to make our distillate. This type of cannabis oil is very potent and usually tests around 80-90% THC. For perspective, dried cannabis flower usually tests around 12-30% THC. The consistency is solid when at room temperature but becomes viscous when heated or blended with other materials. Consumers often use distillate for dabbing with specialized rigs or vaporizing in cartridges or special pens. The oil is flavorless and odorless unless terpenes are added or reintroduced.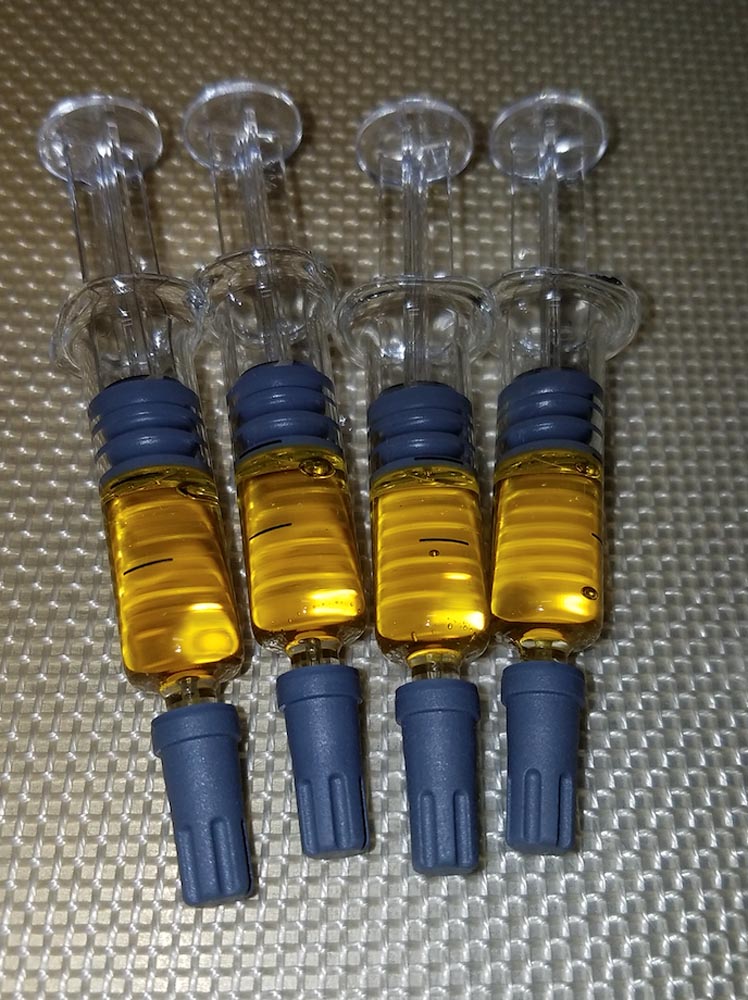 Why Use Distillate for Edibles?
Because distillate is flavorless and odorless, you can enjoy the full flavor of your edible without the taste of cannabis. We also like to use distillate to create edibles at Bask because dosing is easily measured and more accurate. Using butter or cooking oils infused with cannabis flowers or trim can be inconsistent and very difficult to dose. Using distillate also saves a lot of time because the product is already decarboxilated, which means the inactive cannabinoid THC-A has already been converted to the activated cannabinoid D9-THC (commonly known as THC). It is important to note that cannabinoids, like THC, need to bind to a fat like butter or oil. In this cannabis infused granola bar recipe below, we use almond butter as our source of fat.
Dosing Edibles with Distillate
It's important to remember when making edibles at home that the recommended starting dose is 10mg per piece. For new consumers or people with a lower tolerance to THC, it's best to go low and slow with edibles and see how you feel. Start with a small amount and wait 60-90 minutes to feel the effects. Experienced cannabis consumers may increase the dose as needed. The effects of edibles typically last around 4 to 6 hours.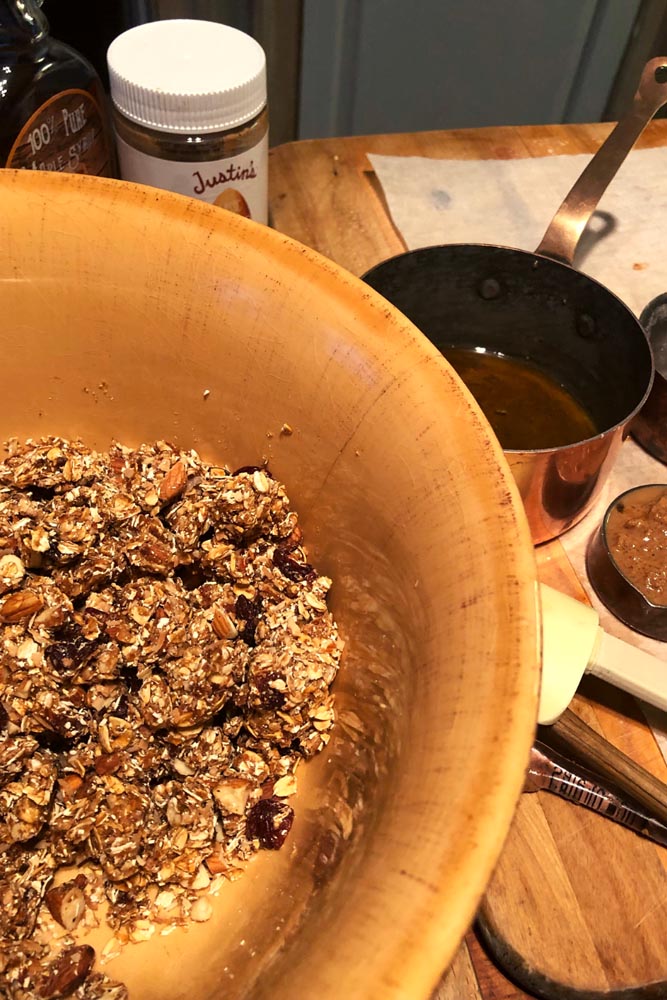 Cannabis Infused Granola Bar Ingredients:
1 cup packed, pitted dates
1/4 cup maple syrup
1/4 cup almond butter
1 cup roasted unsalted, loosely chopped almonds
1 1/2 cups rolled oats
*Optional additions – chocolate chips, coconut, dried cranberries, dried cherries
Instructions:
• Preheat oven to 350 degrees.
• Process dates in a food processor.
• Toast the oats in the oven for 10-15 minutes
• Put the oats, almonds and dates in a large mixing bowl and toss.
• Warm maple syrup and almond butter in a small sauce pan over low heat.
• Remove from heat, add cannabis distillate to the sauce pan and mix well. (Because the distillate is solid at room temp, we usually warm with with a hair dryer or place the container in a cup of warm water.)
• Pour syrup and almond butter mixture over the oats, nuts and dates. Use a large wooden spoon to disperse the dates throughout the mixture. Add other optional items if desired.
• Transfer to a parchment lined baking dish. Press down firmly until uniformly flat. The bottom of a stainless dry measuring cup works well.
• Cover with parchment paper or plastic wrap and chill in the refrigerator for 20 minutes.
• Remove from the pan and slice evenly.

Store the cannabis infused granola bars in a sealed zip lock bag. We like to wrap them individually in parchment paper first.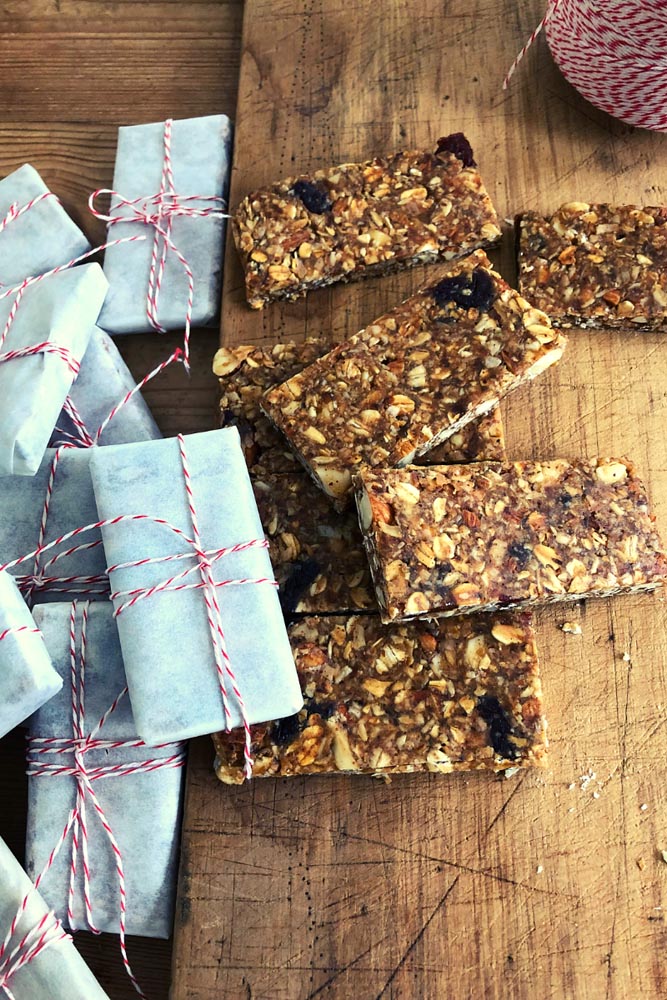 At Bask, we have a wide variety of edibles and Bask distillate that can be used to infuse edibles at home. Check out our full menu selection here. Patients and Caregivers are invited to visit our dispensary to speak with one of our Patient Care Advocates for any questions about products, dosing, and more.
Please consume responsibly. This product may cause impairment and may be habit forming. Marijuana can impair concentration, coordination and judgment. Do not operate a vehicle or machinery under the influence of this drug.
This product has not been analyzed or approved by the Food and Drug Administration (FDA). There is limited information on the side effects of using this product, and there may be associated health risks. Marijuana use during pregnancy and breast-feeding may pose potential harms. It is against the law to drive or operate machinery when under the influence of this product. KEEP THIS PRODUCT AWAY FROM CHILDREN. There may be health risks associated with consumption of this product. Marijuana can impair concentration, coordination, and judgment. The impairment effects of edible marijuana may be delayed by two hours or more. In case of accidental ingestion, contact poison control hotline 1-800-222-1222 or 9-1-1. This product may be illegal outside of MA.