MA Medical Patient Deals & Discounts
Score every time you shop. Bask in the savings.
For Massachusetts Qualifying Registered Medical Use of Marijuana Patients ONLY.
Daily Deals and Discounts
Saturday
10% OFF 1g concentrates | 15% OFF 2g concentrates | 20% OFF 3+ g concentrates Includes distillate capsules and RSO. Does not include Vape Cartridges or Baller Jars.
Sunday
25% OFF for seniors 60+
Cannot be combined with additional discounts or deals.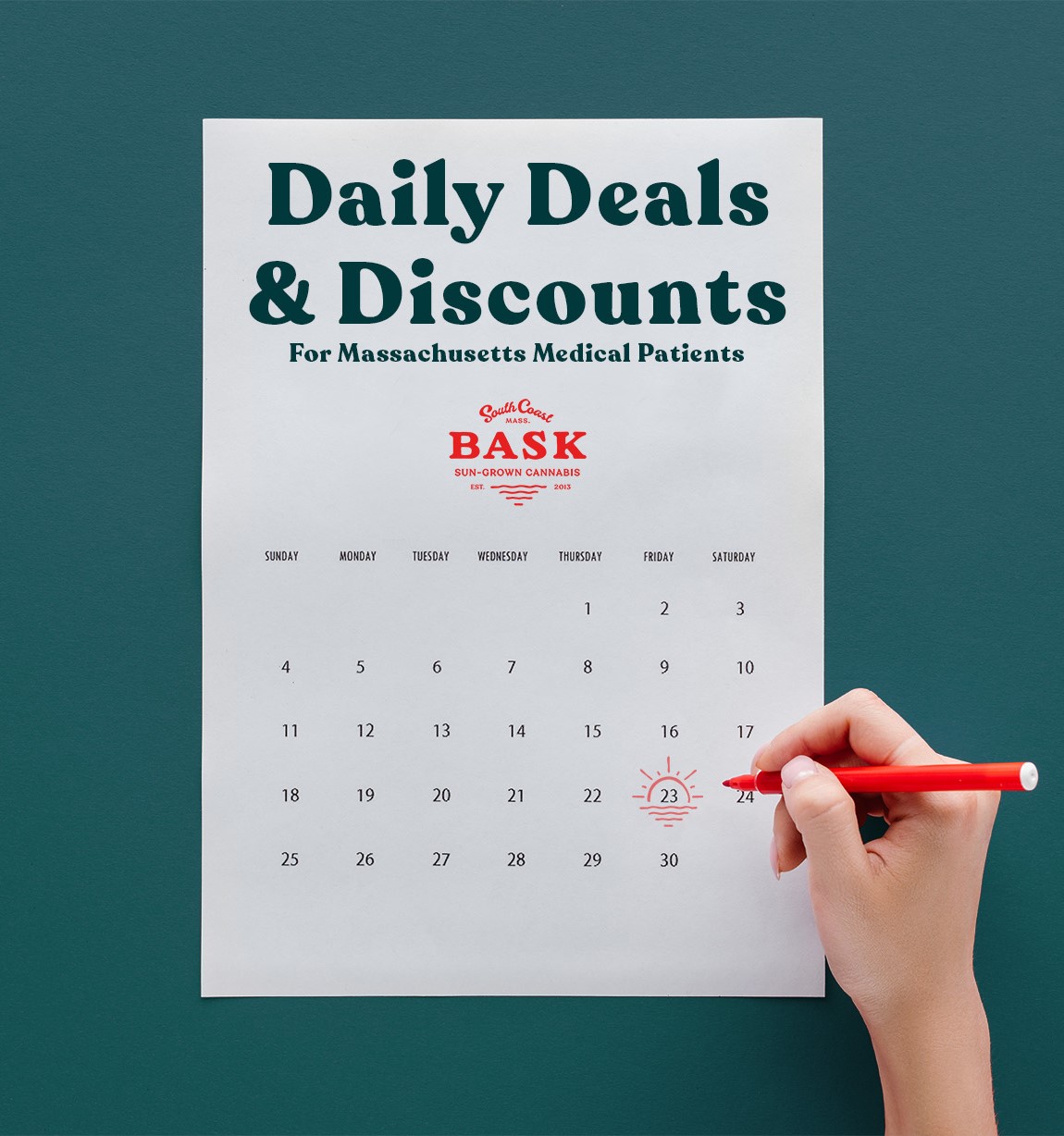 Bulk Pre-roll Deal
Purchase any 5 Bask pre-rolls for $60. Does not include pre-rolls from other brands. Must be purchased in a single transaction. Available while supplies last. No substitutions.
New Patient & Renewal Discounts
First Time Patient
Receive 20% off your first purchase at Bask.
Renewal
Come to Bask within 30 days of renewing your Patient Registration Card and get 20% off your purchase.
*Exclusions May Apply*
Other Deals
(Veteran, Financial Hardship, & More)
Medical Patients 17 and Under
Students and Education Faculty
Veterans Care Program
Veterans with 100% SC VA Rating will receive 40% off up to 2 ounces of flower or the dry weight equivalent per month
Hospice
Hospice patients who qualify for the financial hardship or veterans discount, or who are 300% or less the poverty level qualify for 80% discount on ounce of flower (or dry weight equivalent) per month.
Cannabis Industry Discount
Ask about our industry discount during your next visit!
All deals and discounts are for Massachusetts Qualifying Registered Medical Use of Marijuana Patients ONLY. Unless otherwise stated, discounts and deals may be combined. Verification required for all hardship and Veteran discounts. All deals available while supplies last. No substitutions. Deals or discounts may be updated or discontinued at the discretion of the dispensary. Our staff is available to answer any questions about deals or discounts.