As 2021 has come to an end and we enter another year of uncertainty with COVID, it's easy to reach for an alcoholic drink to help cope with the stress and challenges that have come and gone in waves since 2020. This January, we're taking a month-long alcohol timeout with the Dry January Challenge to start the new year with a fresh and positive mindset.
What is Dry January?
Dry January began in the UK in 2013 after a columnist, Peter Oborne, decided to try out a month without drinking alcohol and reported the positive effects.  Now, people are joining the challenge and abstaining from drinking alcohol for the month of January to reset or detox after the holiday season and as a way to begin a wellness journey in the new year.
What are the Benefits of Dry January?
Recent research has found that there are numerous benefits to participating in Dry January including better sleep, more energy, and even weight loss. Here are some stats from a 2014 University of Sussex study: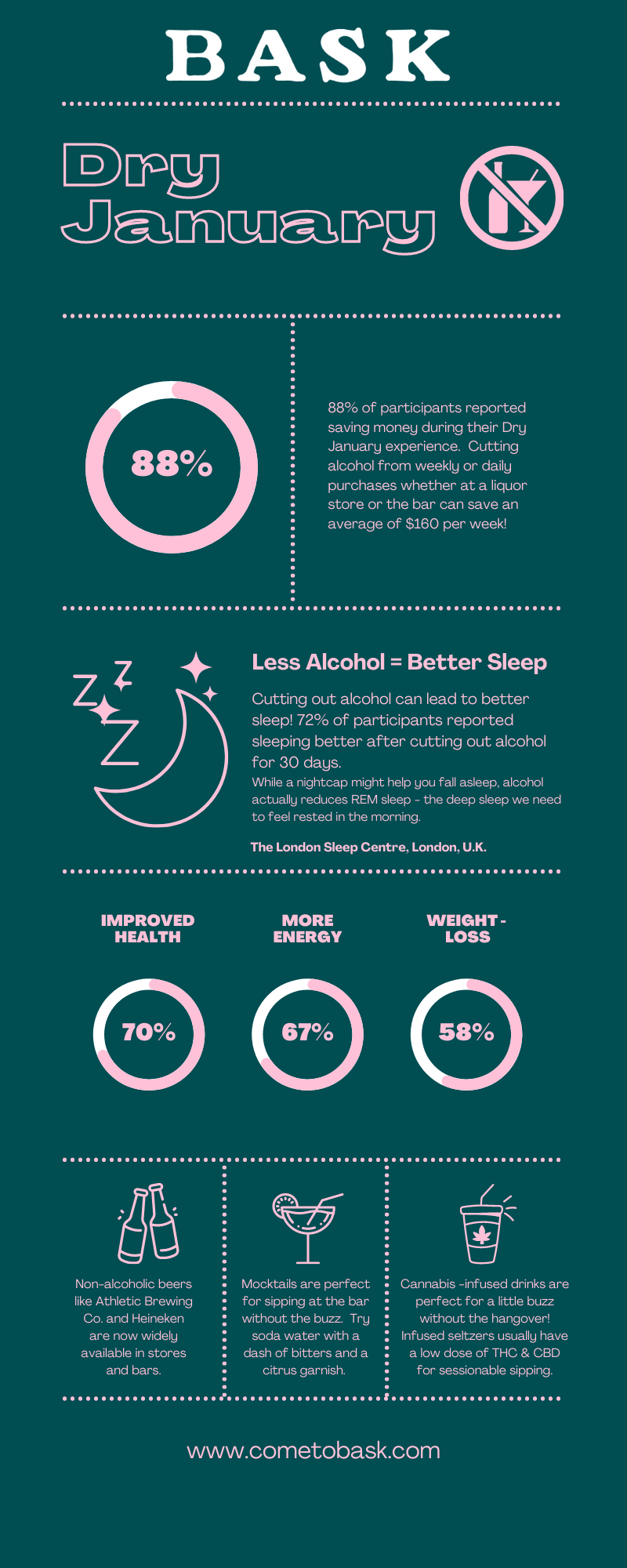 Alcohol Alternatives
Non-alcoholic options are on the rise as trends are shifting away from drinking and toward a healthier lifestyle.  Non-alcoholic beers and mocktails are becoming widely available to order online and even in some bars and restaurants.
Cannabis-infused beverages are also a great alternative to alcoholic beverages. These low-dose sessionable drinks are the perfect replacement for alcohol at social gatherings, with dinner, or to wind down after a long day of work. Cannabis-infused seltzers have exploded in the market over the last year with a wide range of flavors and brands. Many have a combination of both CBD and THC and uses water-soluble cannabis infusions, which just means the cannabis dissolves in water so you don't have any weird floaters in your drink. Cannabis seltzers are great because many of the options available today are either low sugar or have no sugar at all so you don't have to feel guilty when you crack open a can. 
The best part about cannabis-infused seltzers? You can enjoy the effects without the hangover the next day.
Recipes
Here are a few recipes from one of our favorite cannabis seltzer brands to try out during Dry January.
(play on a French 75)
·       1 oz lemon juice
·       0.5 oz simple syrup
·       4 dashes angostura bitters
·       1 can Lemon Basil Cantrip
·       Cinnamon stick garnish
Mix lemon juice, sugar, and angostura bitters. Shake over ice and pour into a martini glass or coup. Fill the glass with Cantrip Lemon Basil. Hold a lighter to the end of the cinnamon stick just until it starts smoking. Garnish with the stick, smoking end into the drink first.
---
(in MA a cranberry vodka is also called a Cape Codder.)
·       ½ oz simple syrup
·       Half a lime, squeezed
·       2 oz cranberry juice
·       Orange bitters
·       Garnish with 3 craisins
Mix simple syrup, lime juice, cranberry juice, and bitters if available. Shake over ice, strain into a highball glass over fresh ice, and fill to the top with Cantrip Grapefruit Hibiscus. Garnish with 3 craisins or a simple lime wedge.
---
Have a favorite cannabis seltzer mocktail recipe? Snap a pic and tag us on Instagram @basksungrown