With the release of Howl's Double Strength Cannabis Tincture on Friday October 26, many of our patients have been asking what are cannabis tinctures and what are the benefits of using whole plant infusions? Below we explain how our Howl's Tincture is made and why the 5000 year old method of whole plant infusion is preferred over THC and CBD isolates.
What is a Cannabis Tincture:
Cannabis tincture is typically created from an oil or alcohol base that is infused with cannabis flower. This method of consumption is an excellent choice for beginners because the eyedropper allows patients to consistently measure their dose each time. Howl's Tinctures are made by infusing cannabis plants grown at Bask in avocado oil. The Howl's Team uses a gentle, 5000 year old method called whole plant infusion to infuse the broadest spectrum of beneficial properties of the cannabis flower directly into organic avocado oil.
How It's Made:
Howl's Tincture is made through whole plant infusion, meaning cannabis is infused directly into the avocado oil. By infusing the cannabis directly in the avocado oil, Howl's tincture retains a full spectrum of what are considered medicinally beneficial properties of the plant. Most other tinctures are made from concentrates that use harsh solvents or gasses that strip out the THC without the other beneficial properties of cannabis. Patients frequently report these are less effective for them and often relate it to the difference between fresh squeezed orange juice and frozen concentrate orange juice mixed with water.
How to Use Cannabis Tinctures:
Tinctures are incredibly easy to use and are the preferred method for new patients. Dosing is simple and consistent with the use of the measured eye dropper. Patients only need to measure out the tincture, drop the dose on their tongue and swallow. Effects start to kick in around 30-60 minutes later. It's best to take the tincture on an empty stomach to ensure consistent results.
How to Determine Dosage:
Most patients start with 1ml and then increase or decrease incrementally each day as needed until they find the amount that works for them. It is recommended that new patients with little or no cannabis experience start low and slow. We suggest inexperienced users start at .25ml and work up to find the proper dosage.
Experienced patients that have a high tolerance or require more significant relief will often begin with 2ml.
Benefits of Whole Plant Infusion:
Patients report that Howl's Cannabis Tinctures are more effective medicinally than those made from THC concentrate such as C02 or BHO. Studies show that full spectrum cannabis medicines provide benefits that THC or CBD only products do not.
There are 113 known cannabinoids in cannabis. View the Leafly graphic below to see some of the cannabinoids and their medicinal benefits. Massachusetts labs can only detect 10 of them. Therefore, it is likely that Howl's tincture has significantly more cannabinoids than those reported above. The known cannabinoids in Howl's THC Tinctures are:
Nighttime: CBN, CBC, THCA
Anytime: CBC, CBGA
Daytime: CBGA, CBC, THCA, CBN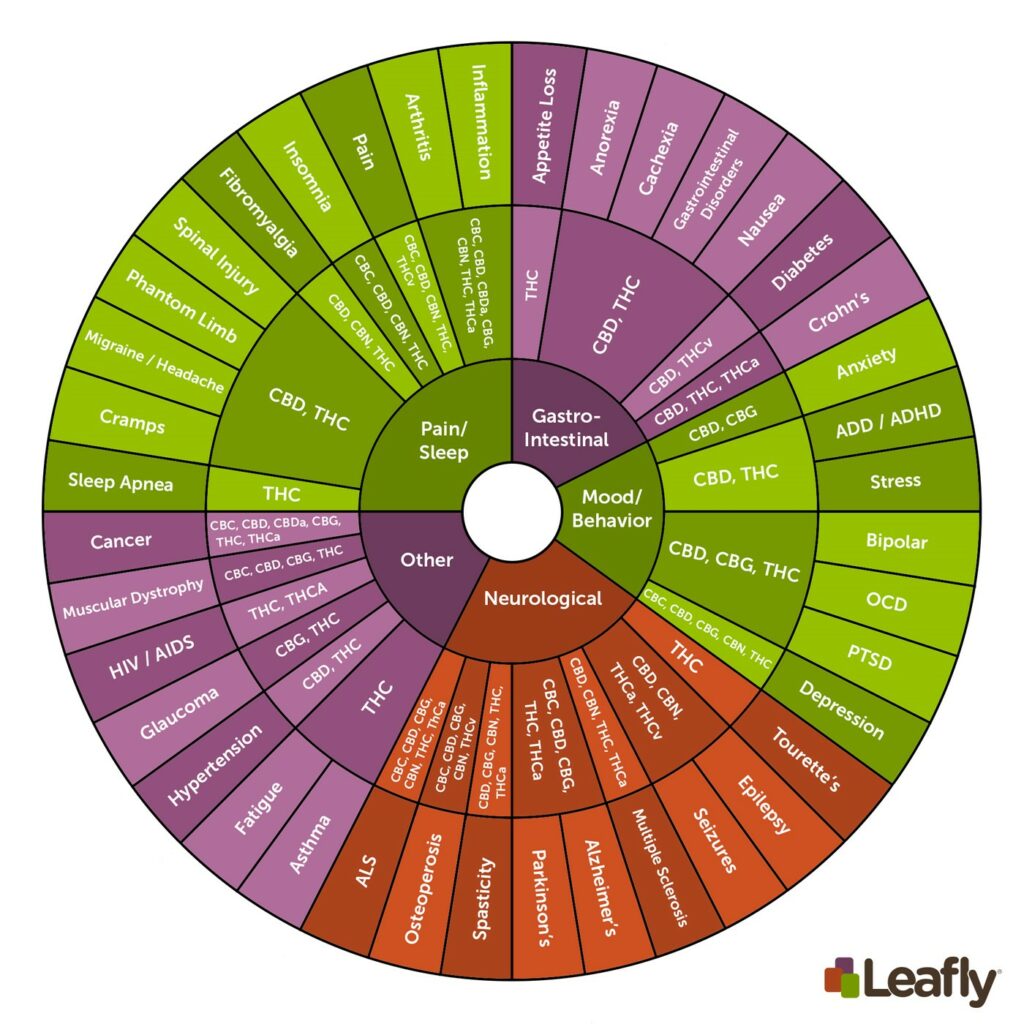 At Bask, we have three THC tinctures Daytime (Sativa), Anytime (Hybrid), Nighttime (Indica) and three CBD tinctures 1:1, 2:1, 10:1 available. Stop in to talk with one of our Patient Educators to find out what tincture is right for you! View our full menu here.
*Thanks to Peter from Howl's for providing in depth information about their tinctures!
Please consume responsibly. This product may cause impairment and may be habit forming. Marijuana can impair concentration, coordination and judgment. Do not operate a vehicle or machinery under the influence of this drug.
This product has not been analyzed or approved by the Food and Drug Administration (FDA). There is limited information on the side effects of using this product, and there may be associated health risks. Marijuana use during pregnancy and breast-feeding may pose potential harms. It is against the law to drive or operate machinery when under the influence of this product. KEEP THIS PRODUCT AWAY FROM CHILDREN. There may be health risks associated with consumption of this product. Marijuana can impair concentration, coordination, and judgment. The impairment effects of edible marijuana may be delayed by two hours or more. In case of accidental ingestion, contact poison control hotline 1-800-222-1222 or 9-1-1. This product may be illegal outside of MA.